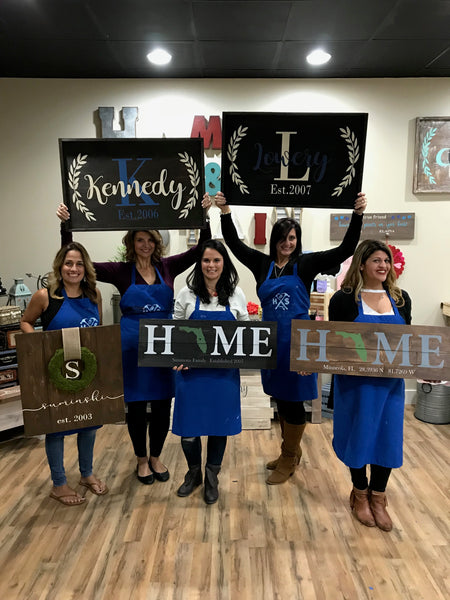 WHAT DO WE DO?
We are a mobile Do-it-Together Workshop. Never heard of a mobile 'DIT' workshop before? No worries, let us explain. We help you make gorgeous wood signs even if you don't have an artistic or creative bone in your body! How? WE USE STENCILS! That's right... we take unfinished wood and vinyl stencils, then you pick your paint and stain colors and we walk you through making it! (We can help with every step along the way, I promise!)
-We are currently solely mobile, with hopes of eventually re-opening a local studio. For now, we are traveling to Clermont and nearby area for Private Parties as well as Public Workshops at local venues. We can host parties in homes, clubhouses, conference rooms, churches, schools or wherever works for you.

Here is what to expect:
-We bring all of the paint/stain, supplies, tables, and creativity coach to lead the way! We set up, teach, clean up, and even take the trash with us!
-You will arrive to find your pre-ordered wood and personalized vinyl stencil along with all your supplies, and an apron to protect your clothing. 
-Once everyone has settled in, we will begin. A typical class will last for 2.5-3 hours. Larger pieces and furniture projects may last up to 3.5 hours.
-Our Creativity Coach will guide you through the process, from start to finish. We will also help you with the selection of stain and paint color options, along with assisting with tips and tricks for each step. We will be hands-on throughout the entire workshop, but if at any time you have questions or need help, please let us know! We are there to HELP YOU!! 
Private Parties
This section doesn't currently include any content. Add content to this section using the sidebar.
Testimonials
What a wonderful time we had at Hammer and Stain. More than just a DIY shop, they make it fun and exciting and at the end of the evening you get to take home a beautiful project. We're certainly going back for another evening of wood staining fun.

Karen F.
Hands down the best team building day ! We had the chance to help each other while also creating our own masterpiece. Alexa and Ali were right there to help when we needed it , love this place !!!!!!

Becki K.
Alexa squeezed us in with under 2 hours until the class; the plans for my birthday fell through and she made sure that my birthday was still special. I also have to thank Ali for prepping the materials with less than 1 hour until the start of class. Talk about customer service!!!! Highly recommend! Plus, what you make is actually useable and pretty! I will be back for sure.

Amber L.